Activated Charcoal  
Posted by Phyllis (In) on 07/03/2018

I literally only used activated charcoal caps from Walmart with 1 cup Pedialyte and 1 cup bottled water. My pup tested positive for parvo yesterday but showed symptoms since Saturday. Charcoal had her back to normal overnight. Got meds at the vet but haven't given them yet, no diarrhea no vomiting or anything since giving charcoal. Poop is normal now, eating and drinking fine no iv or special diet just charcoal and Pedialyte.
Replied by Theresa
Mpls., Mn
07/05/2018

Replied by Kristie
De Soto, Mo
07/15/2018

Replied by Kristie
De Soto, Mo
07/16/2018

---
Posted by Janelle (Trinidad And Tobago) on 04/29/2018

April 2018

Hi Guys.

On Wednesday, one of our rescue puppies started showing symptoms of Parvo. By the end of that day, we were devastated and ready to put her to sleep because we were informed that we could not help her without hospitalization which we could not afford as we have many other rescues at our shelter to consider. I thought that was it.

Today is Sunday and the puppy has now made a full recovery (mostly thanks to the internet) here is what I did.

First of all, keep the puppy in a room by themselves and be sure to continuously bleach clean where ever they poop. They must be in a clean and sanitized environment. Make sure its confortable as well as I personally believe that TLC gives them the will to want to stay alive.

Things you need (just for the record I am obviously not a vet):

1.Saline solution
2.Amoxicilin (I used 250 mg)- tell the pharmacist what it's for
3.Activated Black Charcoal (i used nature's way)
4.Echinacea (also nature's way)
5. Pedialyte
6.Coconut water
7. A cup to measure the amount of liquid you are going to put into your puppy. Eg. I used a big shot glass for a 1.5 pound puppy. Use your discretion.
8. Dropper
9. 12 ml Syringe and 22 gage needle.

Mix pedialyte, coconut water, black charcoal and echinacea. Administer this every hour. Yes every single hour. Take time off from work if you can.

Every 3 hours administer saline solution into their "scruff". Pick up the extra skin on the back of their neck and stick the needle in. If you dont know how to do this, ask someone for help. I administered 10 ml for this pup. Yours may need a lot more because this puppy was TINY.

0.5 ml amoxcicilin at 7 a.m and again at 7 p.m

I really hope this helps. I had lost hope and was ready to give up. Please try for your puppy by doing these cheap and simple at home remedies. Be prepared to give up ur time to this pup for about 3 days but it will be worth it!
Replied by Eileen
Puerto Rico
06/25/2018

Replied by Theresa
Mpls., Mn
06/25/2018

---
Posted by Janneke (Philippines) on 02/25/2018

I cannot thank this website enough! Thank you for being a source for pets and owners who go through such a stressful time with parvo. I have 4 dachshund puppies who contracted the virus and exhibited symptoms after they got their vaccine and deworming at the vet. It was heartbreaking to have the all suffer. Unfortunately, I didn't think it was parvo in the beginning and lost one of my pups, my beloved Oreo. His death however gave me the strength to fight for the remaining three, had two who were very weak on IV for 1-2days. The other one who was a bit strong and eating, I monitored and made sure she was hydrated, but I know she was still in pain and was still having dark and runny poo. Morning after Oreo died (yesterday, Sunday), I read this post and went off to look for Activated Charcoal, bought Gatorade, Pedialyte, syringe. Then checked out my two other pups - it was too expensive to keep them in the clinic -, and bought multivitamins. Last night until this morning I did the Activated Charcoal mix with Apple Cider and Gatorade. Then I kept wet beef dog food available (remainder of what was given at the clinic) throughout the wee hours and the three of them gobbled most of it by dawn. In the morning, cooked liver with broth and served it to them with white rice.
Again, the three almost finished everything. I am so happy and relieved that we pulled through and now on their way to recovery! We'll folow the rest of the advice here and continue to give them the mixture for a week. Thank you to everyone who contributed! You are all heroes to my three pups: Muffin, Coco, and Kitkat. on hindsight, I know I would have been able to save Oreo with this had I reacted swiftly enough and understood the early warning signs of parvo.
To anyone reading this, going through what we all did - don't hesitate, save your puppies and doggos by strictly following this regimen/treatment!
Replied by Stacey
Pyatt, Arkansas
05/03/2018

Replied by Anna
Dallas Tx
05/29/2018

Replied by Kay
Louisiana
07/16/2018

Replied by Rene
Philippines
07/29/2018
---
Posted by Oscar (Tucson Az) on 12/19/2017

Wow!! I couldnt believe it!! My puppy even tho vaccinated was showing all symtoms of parvo...i took him to vet where they put him on nausea meds and antacid..didnt help..if anything he got worse...called vet hospital where they estimated cost at 900 to 2000 dollars to try and help him...long story short...active charcoal works!!! My pup looked awful...no appetite period..diarrhea...went to walgreens picked up charco-caps..after opening up caps mixed 2 with cup of gatorade and injected 5ml.into his mouth down his throat...every 2 hrs..to my amazement...after 2nd dose...looked more alive...after a few more doses..gave him chicken and totally devoured it even whined for more.....by end of day..he was back to being pesky little pup...it works!!!
---
Posted by Loretta (Hemet, Ca) on 09/12/2017

My pup is 12 weeks and the day before thurs her 2nd shot she got sick so the next she was worse vomiting everywhere and stinky runs I tried and tried to call my vet but no one answered just to reschedule her appt. Well sat came and it was horrible curling up into a ball throwing up not eating poor thing every time she drank she threw up that's when I started googleing found out it be a lot of money for her vet. so I did more looking, found this site after a remomendationg for using active charcoal, so I figured with all her weight loss maybe 10 pounds so I got charcoal caps from Walmart and pedialyte unflavored did one cup for every capsule one cup and 1 capsule was more than enough. Room temp for the next 12hrs .05tsp/2.5ml
After a few hrs, she stopped throwing up still no poo. Once the throwing up was completely over I did .05 charcoal and the filled the rest well to 1tsp with more pedialyte till I went to bed she did poo out side before bed straight like pee dark Burgundy color I'm assuming blood and charcoal so I thought to myself if she makes it through the night without vomiting or just through the night she may have a chance and she did :) so I did the same process only 1tsp of charcoal and filled the rest with more pedialyte to 2tsp/10ml, only every hour (keep in mind she has never stopped drinking water on her own((although very dehydrated)) then in the afternoon since there had been no throwing up I added in a 1/2tsp of plain Greek yougurt with probiotics and add pedialyte to it just enough that it liquidy to go into the syringe filled it up to 2tsp (I forgot to add I was rubbing molasses on her gums with every dose) she kept it down then did the same again and then did a mix of pumpkin she kept it down so I thought OK I'm trying some wet dogfood with pedialyte just a small amount 1tsp alright she was peeing clear by 5pm lol.
My hubby offered her a healthy dog treat she ate two and was doing great so today is Tuesday its been 3days she finally started eating dry dogfood on her own just a few pieces still drinking licking me jumping around she's still curling up ever so often so I m assuming its when her tummy turns I'm still giving the charcoal but only every 3 to 4 hrs and its 1tsp followed by 2tsp of just pedialyte. I did give 0.5 of pumpkin also still giving molasses and she pooed awesome first part runny and black then soft half normal looking and half black:).
I am going to continue to give this and yogurt for another day 3 times then 2 times Thursday if things are still doing well and Friday I'm taking her to the vet. I forgot to mentione I had some clindamycin left from my foster kittens being sick I also gave her that 2 times a day I had enough for 2 days I figured any kind of antibiotic med I had laying around with a google of how much to give could nt hurt a pup that may die.
Before a Friday pic and this morning pic. I know still a long recovery 2 weeks and a chance she may get sick again and pass but one day at a time. For today she is awesome and ACTIVE CHARCOAL SAVED MY DOGS LIFE!!! <3:) PS DONT WAIT TILL ITS TOO LATE!!! GIVE EXTRA LOVE AND ATTENTION!! So they will fight to live!!!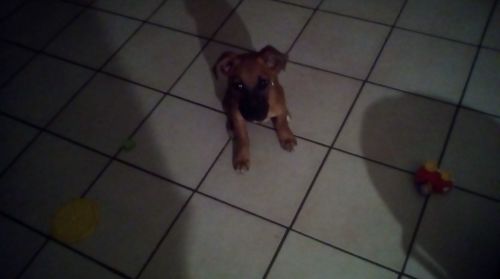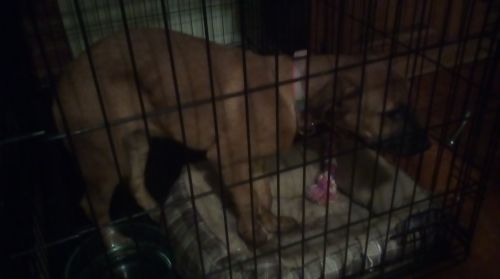 ---
Posted by Victoria (Merced) on 11/25/2016

I have three puppies their nine weeks old, the runt of the three started vomiting foam. I started the activated charcoal doses right as I observed this. I gave his brothers a dose too, (even if they aren't vomiting) Only a couple doses, then straight pediatric electrolyte solution with zinc. Is this right?
Replied by Theresa
Mpls., Mn
11/26/2016

Replied by Fiza
Bangladesh
12/23/2016

---
Posted by Davianawdon (Los Angeles, Ca) on 09/25/2015

So it'll be officially 7days tomorrow since my 3 month Maltese started showing Parvo symptoms & let me tell you it's been the longest week of my life. Parvo is not a joke, I almost lost my dog by the 3rd day. I took her to the vet & of course she tested positive for Parvo, they didn't give me anything to treat her just recommended i'd take her to another vet & have them hook her up with an I.v . My sister in law took her to another vet & they basically told her the same thing if she doesn't get hooked on to an I.V she could die in 72 hours or less . Any pet owner that hears that would get overwhelmed shoot just knowing your beloved pet is sick could get anyone overwhelmed. So the treatment was denied & I did my research back and forth thru sites desperate to find something for my little pup & well here are a list of things I recommend I can't guarantee it'll workout for your pup But it's a start
-Syringe
-Pedialyte
-Gatorade
-Cephalexin or Amoxicillin
-Pepto Bismol
-Nutri-Cal either for a pup or an adult dog
-Chicken Broth
-Activated Charcoal
Those are basically all the things I used.
The Pedialyte & the Gatorade are to keep your dog hydrated & give them some electrolytes I would give her tablespoon or 2 every half hour with a syringe, I tried not to rush her so she could hold it down. You have to force feed them so don't be afraid to hold the sides of their jaws open & put the syringe down on the side to make sure they swallow it. P.S the syringe you could buy it at a petco or any pet store. & when they say be prepared not to sleep it's serious, this a 24/7 thing, not a oh I'll take care of her/him in a little bit. They have to stay hydrated all the dehydration is what kills them. If you can't take off of work just call it a quit.
The cephalexin or amoxicillin are antibiotics, I already had some Cephalexin from a previous time I took one of my other dogs to the vet I'm sure if you were to ask the vet could hook you up with some. I tried not to give her so much of it since it doesn't do anything towards the parvo it's just to prevent a secondary infection in their intestine but when I did give it to her it was every 8 hours, I stopped after the 4th day.
The Pepto bismol they say it's to coat their belly and intestine to control the diarrhea and vomiting I tried my best to give her some every two hours but I failed at that I was more worried of keeping her hydrated plus she's so young I didnt want to keep giving her so much medicine but when I did give it to her I tried to do it at least 3 times a day I would give her half a table spoon with the syringe.
The nutri-cal I've used previously on my other dog when she was pregnant she wasn't eating so she had no nutrients in her. I bought the nutri-cal supplement for my pup I gave her 1/4 tablespoon 3x a day once in the morning, noon, and evening. It won't make them eat but it's just so they have some type of nutrients in them. & also you have to force it to them just dab it on your finger & try to put on the roof of their mouth.
The chicken Broth I didn't try giving it to her until the 4th day which is also when I started giving her the nutri-cal I made sure I gave her the broth first then the nutri-cal ... I would only feed her a tablespoon of the broth 3x a day just to see if she could hold it down.
The Raw Egg ... Man this was a tough one I only gave her a tablespoon of it I was pretty grossed out by it but I was doing whatever could get my dog back to health. I cracked one raw egg & fed her a tablespoon of it once again I tried not to rush her to eat since its so slimy I wanted to make sure she was able to swallow it, then I would wash it down with half a tablespoon of pedialyte. I only tried this once just to see if she would get better, I tried it 3x in one day she kept it down the first time & the third but the 2nd time she didn't. I tried this but I felt like it didn't help I've read stories of other where it has worked but I'm just throwing what I experienced with at home with my pup, so it might work for yours but I suggest you do it if you see they're some what holding things down.
Last but not least, The Activated Charcoal. I was reading about this back and forth. I thought I was suppose to get a prescription for it until I read it's an over the counter vitamin & well I read more into it & decided to give it a try I figured it wouldn't hurt to try what do I got to lose she'd probably just yak it back up. So I did more research on it because some didn't specify exactly what it looked like & well I decided to go buy some I didn't buy the powder one they have for fish tanks I was scared to buy it and make my dog feel worse , they have charcoal tabs at Walgreens but they're like 22 bucks, Walmart was out of stock so I went to CVS Pharmacy and bought ACTIVATED CHARCOAL CAPS they were like 11-12 bucks. I took them home cracked to caps I suggest you put some paper wherever you plan to crack them open they could be pretty messy to clean up.
Anyways 2 caps cracked open 1 Ounce of pedialyte I threw a splash of gatorade in their just cause I thought it looked gross so I felt bad for my pup having to taste that awful looking drink. I gave her 1 tablespoon of it once again I tried not to rush her so she could hold it down and she was doing pretty good after the egg so I figured she'd do good with keeping it down I don't recommend you give your dog this if they're not keep anything down it'll just come right up. It's already the 5th day with my pup feeling like this, I let 2hours go by and she got up to drink some water which she had already been doing on the 4th day after I had given her the nutri-cal and the broth I guess it would get stuck in her mouth so she'd feel like washing it down to get the taste off. I waited 2 hours to give her some more & here come my nieces they opened the door to my room and once she saw them she began to wag her little tail which she hadn't done since a week ago she was being playful so I decided to make her something to eat I made her a scrambled egg & fried some ham for her I didn't add anything to it just cooked it . & boy did she tear it up her eyes got so wide when she smelled the food my poor baby ate everything like she hadn't ate in years she ate so much she couldn't stand so I picked her up and put her back in her bed.
About 3am she woke up crying wanting me to sleep in my bed so I did she was being a wild sleeper as she usually was before she got sick. & well I kept an eye on her the next day I fed her the same thing that morning then I fed her the same for lunch for dinner I smashed up some of her kibble and added a little bit of water in it I didn't give her any tap water, I kept giving her filtered water she ate it right up she was back to her usual self I left for a few hours came back home to her wagging her tail waiting for me to get in the house lol im still keeping a close eye on her to see if any of the symptoms are coming back. I have to say the charcoal did work but also the hydration with the pedialyte helped a lot I could've lost my dog if I didn't get right to it..... I hope this is helpful for anyone .... I did a lot of praying too & also I would give her lots of TLC they need to know youre there for them & that you love them that they're not ready to go yet ....
Replied by Piper Mom
Winesm@earthlink.net
07/12/2016

Replied by Suseeq
Sydney, Australia
07/13/2016

Replied by Theresa
Mpls., Mn
07/14/2016

Replied by Raymond
Pahrump Nv
11/05/2017

---
Posted by Myah (Greensboro, North Carolina) on 09/17/2015

My dog Sage caught parvo when she was a puppy and we took her to the vet and followed through that procedure the first time. It cost $800 and they said it's still a 50/50 chance of recovery.
Two years later Sage caught it again, she start not eating her food or drinking and throwing up and there was blood in her stool. We knew we couldn't afford it again so I started doing research and I came along activated charcoal.
So we gave it a shot, here's the steps
1) Get activated charcoal in the caps, then get Pedialyte (clear), white rice, beef or chicken broth, and a one ounce syringe
2) You don't want to give them the capsules until they can hold something down so every 30 minutes for two hours give them one ounce of Pedialyte. After they are not throwing up the Pedialyte, break two capsules open and mix it with ounce of Pedialyte and give them this solution every 30minutes for 4hrs
3) Just in case they want to eat or drink, keep water and rice with the broth in their bowl.
4) When they begin to become more active, only give the dosage once a hour and every other hour replace Pedialyte with cold water
5) When they are eating and drinking again and their stool doesn't contain blood and starts hardening up again you can stop the charcoal treatment.
6) Continue the rice and broth 7 days after the symptoms are gone and switch back to dog food.
Sage made a full recovery and is about to turn 3.
Replied by B W
Orlando
01/17/2016

Replied by Stephanie
Nc
09/22/2016

Replied by Theresa
Mpls., Mn
09/22/2016

---
Posted by Codi (Mo) on 09/05/2015

I want to thank everyone on this site. This works. My pit bull was his beath bed. We were losing hope till we found this. We tried everything nothing seemed to be helping. Bought active charcoal
After 2 days my dog is up and walking around. I'm so thankful. We still have a ways to go to get him back up to weight but we are very blessed to still have our dog alive.
Replied by Tina K
Kaitaia Nz
01/09/2018

---
Posted by Kml (Philippines) on 08/14/2015

Two weeks ago our dog Zoe was not active and didn't have an appetite. The next morning she was vomiting and pooping blood. She was diagnosed with Parvo by the vet and said she had 50/50 chance to live depending on how strong her immune system is. She was immediately given IV fluids to avoid dehydration and IV medications such as anti-emetic drugs and antibiotics.
I fed her every hour with 5cc gatorade. I was losing hope because she was always lethargic and didn't react even if we injected her with medicine. I saw this website and learned about activated charcoal. It was very hard to find activated charcoal here in the Philippines because the drugstores don't usually sell it but I managed to find one in a City nearby.
I mixed the activated charcoal with gatorade as what I have read here, fed her 10cc of the mixture every 2 hours. I wasn't able to sleep for a couple of days but it was all worth it.
Zoe is back to her old self after 7 days of home treatment. Thank you for this article our dog is still alive. Please don't let your dogs suffer this illness and have them vaccinated. Don't give up them because they will never give up on you.
Replied by Cody
Philippines
08/20/2015

Replied by Theresa
Mpls., Mn
08/21/2015

Replied by Kml
Philippines
08/25/2015

Replied by Pearl
Carmina Cavite, Philippines
08/31/2015

Replied by Theresa
Mpls., Mn
09/01/2015

Replied by Christelle
Philippines
11/16/2015

Replied by Juliet
Cagayan De Oro, Philippines
01/26/2016

Replied by Mama To Many
Tennessee
01/26/2016

Replied by Jessica
Los Angeles, Ca
04/02/2016

Replied by Suseeq
Sydney, Australia
04/02/2016

Replied by Donald
General Santos City, Philippines
09/13/2017

---
Posted by Carmen (Detroit) on 07/10/2015

After treating my pitt Oreo activated charcoal caps as well as pedialyte through the turkey baster, today he woke up waggin his tail, not throwing up, and ate a some rice!
I'm in tears! It works! I'm gonna keep him on this regimen until he starts eating really good! Thank you all! I didn't give up on my best friend, and you don't either!
Replied by Theresa
Mpls., Mn
07/10/2015

---
Posted by Victoria (New Orleans, US) on 12/07/2014

Please, , if you havent tried the charcoal with Pedialyte, please do. I would suggest that if your puppy/dog is having trouble holding anything down, don't give it to him/her until you have given an enema of electrolytes.
Here is my story..We were getting a new Papillion and ended up with two, a half brother and sister, after we lost our family dog(a papillion) to trauma about a year ago. Anyhow, they are almost 7 months old and have had all shots but are due their 6 month shots. :( Roux, the male got really sick almost a week ago, it got so bad, the throwing up and diarrhea that I really thought I was going to lose him that nite.. I tried keeping him hydrated..nothing was working. I brought him to the vet and he tested positive for parvo. They said if I didnt bring him to the Animal emergency hospital, he wasnt going to make it. I had no choice, , to the tune of $2,000. Money I really don't have, , he is still there.
Bella, the female began to get sick Friday nite.. I tried everything and was trying to figure out what I could sell to get her into the hospital when I happened upon this site. she was going down.. I tried the enema of pedialyte, she stopped long enough at 4am for me to get to the 24 hour drugstore where I got the charcoal in vitamin form, broke it open and mixed 2 tablespoons with 1 cup of pedialyte. She has not thrown up or had diarrhea since. she is getting up. She still looks like hell but she is not dehydrated and shes moving around. ITS UNBELIEVABLE... but I really believe if theyre not keeping anything down, the enema gave me the ability to get the charcoal in her system to do its thing. I will let you know if anything else changes. I believe its saving her life.. I really do.
Replied by Momndani
Las Vegas, Nevada
12/30/2014
Replied by Momndani
Las Vegas, Nevada
01/01/2015

Replied by Theresa
Mpls., Mn
01/02/2015

Replied by Amy
West Plains, Missouri
05/07/2015

Replied by Theresa
Mpls., Mn
05/07/2015

---
Posted by Blondy (Trinidad, Wi) on 11/22/2014

Thank you all for the help. I did the activated charcoal in electrolytes and it worked on my 2 and a half month old blue pitt bull. Thanks so much, he is back to his self.
---
Posted by Josh (San Antonio, Texas) on 06/19/2014

I have a 11 week old English bulldog named Diesel that just got Parvo. I have had a pitbull puppy die before so I know how quickly this virus effects puppies. I woke up at 5am to find my boy had thrown up several times and did not want to eat or drink. Yesterday he ate but not at his usual rate (usually scarfs his food down). I began searching online and came across this website. I went to Walmart due to noticing an earlier post the activate charcoal which is also called activate carbon is sold in the fish section. It cost me $6USD to purchase, I also purchased pedialite and Gatorade. Once home I poured some Gatorade, pedialite, and two tablespoons of activated carbon into my blender. The carbon was in chunks and needs to be powdered for easy consumption. My buddy drank it right up and not even 30min. later was running around and playing. A complete 180 degree from where he was this morning. Thank you everybody and this method does work!! Don't give up on your best friend.
Replied by Mae Angeles
Philippines
11/27/2014

Replied by Theresa
Mpls., Mn
11/27/2014

Replied by Mae
Philippines
11/28/2014
---
Posted by Pamela (Austin, Texas) on 05/20/2014

I lost two puppies last week to parvo. I spent over $1,000 to have them in the animal hospital for fluids, only to have my heart broken when they sent them home and they passed away. I had no idea what parvo was or how deadly it was. The next day, their dad was sick with it. I went on line and found this web site and immediately started treating him. I gave him pedialite, every half an hour, activated charcoal, colliodial silver, one raw egg every morning, and a bit of honey (to keep his sugar levels up). Today is day 6 of him being sick and I am happy to report that just as I am typing this, he ran up to me and jumped on my leg. He isn't eating on his own yet, but he is getting back to normal.
---